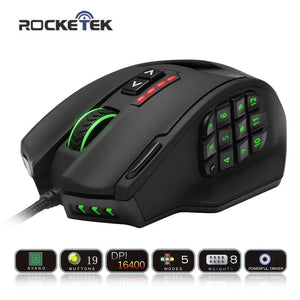 Rocketek USB Gaming Mouse
Sale price Price $71.88 Regular price
Rocketek Gaming Series High Precision Laser MMO Gaming Mouse for PC
by: Rocketek
Features and specifications:
16,400 DPI Laser Sensor
Make the right moves with up to 5 DPI settings that take you from pixel-precise targeting (50 DPI) to lightning-fast maneuvers (up to 16,400 DPI). Easy-to-reach DPI+ & DPI- buttons are located right in the middle of the Rocketek Venus MMO Gaming mouse. Five colors of light will show you the change in DPI. A DPI indicator light is available to allow you to use the mouse with confidence.
1. Built with gamers in mind: Up to 16,400 DPI, 12,000 FPS, 1,000 Hz polling rate, 30 G acceleration, 100-150 in/s cursor speed, and an Avago sensor. Omron micro switches provide crisp, firm clicks.
2. 18 programmable buttons, 5 memory profiles each with a distinct light color for quick identification, an 8-piece weight tuning set (2.4 g x 8), and over 16 million LED color options. The LED may also be disabled as per your preference.
3. Durable, smooth Teflon foot pads and contoured body for ultimate gaming control. High-end features include 18 buttons, power button, light in 5 color modes and 12 side buttons.
4. Ergonomic right-handed design with rubber painting surface that can keep your grip firm during gameplay. 6 ft braided-fiber cable with gold-plated USB connector ensures greater durability.
5. Special setting switch button on the back side of the mouse let you take command with maximum efficiency.
Product Showcase
The Rocketek Venus MMO Gaming Mouse is outfitted with 16,400 DPI high-precision laser sensor that shifts the balance between the keyboard and mouse with its 19 MMO-optimized buttons, as well as 5 memory profiles & 8-piece weight tuning set.
Combine the programmable buttons with the standard left and right mouse buttons and it all adds up to 19 buttons with which you can punish your competition. The Rocketek Venus MMO Gaming mouse's driver software allows you to easily organize your key binds and character abilities for any game by enabling you to fully remap and assign macros to all 19 buttons.
Like a heavy mouse? A light mouse? Maybe you prefer different weights for different games? Use the custom weight system to match your unique playing style. Optimize weight and center of balance with up to 8 2.4 g weights for a personalized feel and better performance.
Rocketek Venus MMO Gaming Mouse
CD Driver
Weight Tuning Cartridge
Quick Start Guide
Backup Durable Smooth Teflon Foot Pads