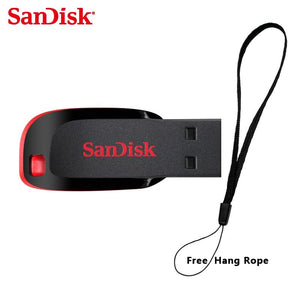 SanDisk Cruzer Blade CZ50 USB Flash Drive 128gb 64GB 32G 16GB 8GB
Sale price Price $12.64 Regular price $16.43
Cruzer blade CZ50 USB flash drive (4 capacities)
By Sandisk
Features and specifications:
Notice:
1. 100% genuine products.
2. All products are in compliance with the SANDISK official website.
3. Manufacturer's reserve the right, at their sole discretion, to change or modify products. Appearance and packaging design may change without prior notice.
4. AliExpress is not responsible for any changes or modifications that manufacturer's make to products.

Capacity:
8GB = approximately 7.4GB-7.6GB
16GB = approximately 14GB-15GB
32GB = approximately 28GB-30GB
64GB = approximately 58GB-60GB
128GB = approximately 119GB-120GB

Market conversion 1GB = 1.00 Billion Bytes, computer conversion 1GB = 1.073741824 Billion Bytes

Note: The market conversion for GB to Bytes slightly varies. Research "memory card capacity" for more information.
Dimensions
Product showcase
Capacity
16 GB
32 GB
64 GB
128 GB