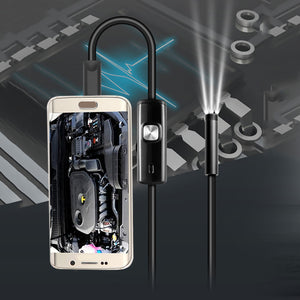 3.5m FS - AN02 Android Endoscope IP67 Waterproof with Inspection Snake Tube Camera
Sale price Price $16.67 Regular price $19.50
FS - AN02 Endoscope with IP67 Waterproof Camera
Go into the details in the corners and touch them. The 5.5mm mini endoscope is 3.5m long, with 0.3MP camera and bright LEDs. Like a little snake, the IP67 waterproof inspection camera can work in different narrow spaces, to help you observe / get things out easily. This borescope is widely used in repair, detection, maintenance.
Main Features:
● Observe details in small untouchable corners with the plug-and-play 3.5m long endoscope and your mobile Android devices ( OTG functionality required )
● 0.3MP photos and HD videos will be directly saved on your phone and PC for follow-up review
● IP67 waterproof rating, six LED lights with adjustable brightness to work in different environments
● Comes with a side-view mirror to change the view; a hook and a magnet to get things out from a narrow space

Specifications:
Camera pixels: 0.3MP
Total length: 3.5m
Waterproof level: IP67
Focal distance: 6cm
Camera lens outer diameter: 5.5mm
Requirement: Android 4.1 OS or above, OTG functionality
Application: intraoral camera system, underwater detection, vehicle maintenance, sewer pipeline dredger, search and rescue, archaeological detection, PCB detection, home use, aviation and space industries, petroleum drilling industries, construction and so on

Note:
After installation, the App icon will appear on the mobile phone screen.
Model: FS - AN02
Type: Endoscope Camera
Pixel: 0.3MP
Cable length: 3.5m
Focal Distance : 3 - 6cm
Diameter: 5.5mm
Optional Color: Black
Package weight: 0.181 kg
Product size (L x W x H): 350.00 x 0.55 x 1.00 cm / 137.8 x 0.22 x 0.39 inches
Package size (L x W x H): 10.00 x 6.00 x 3.00 cm / 3.94 x 2.36 x 1.18 inches
Package Contents: 1 x Endoscope, 1 x Hook, 1 x Magnet, 1 x Side-view Mirror, 1 x Fastener, 1 x Cable, 1 x CD, 1 x English User Manual
IPXX Rating Chart

IP Code
The IP Code (or International Protection Rating, sometimes also interpreted as Ingress Protection Rating*) consists of the letters IP followed by two digits and an optional letter. As defined in international standard IEC 60529, it classifies the degrees of protection provided against the intrusion of solid objects (including body parts like hands and fingers), dust, accidental contact, and water in electrical enclosures. The standard aims to provide users more detailed information than vague marketing terms such as waterproof.

The digits (characteristic numerals) indicate conformity with the conditions summarized in the tables below. For example, an electrical socket rated IP22 is protected against insertion of fingers and will not be damaged or become unsafe during a specified test in which it is exposed to vertically or nearly vertically dripping water. IP22 or 2X are typical minimum requirements for the design of electrical accessories for indoor use.