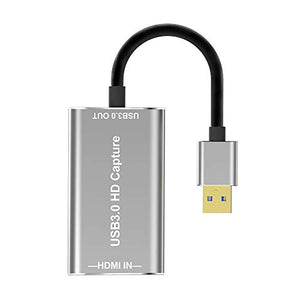 HDMI Game Video Capture Card
Sale price Price $131.99 Regular price
[HDMI Video Capture] It can display HDMI content, video recording, meeting recording, game recording and other functions on the computer. If you need to stream or record at a certain resolution, the device will internally up or down-covert the input signal. Because the device uses the existing drivers on your computer, the capture device will work with any software that supports those drivers (even possible to use with Skype, Google Hangouts, WebEx and more).


[1080p @60Hz] Record or stream an HDMI signal via USB 3.0(2.0) with resolutions of up to 1920 x 1200 at 60fps.

[UVC and UAV Standards] The capture meets Standards UVC (USB video class) and UAC (USB audio class) without installing any other driver, plug and play.

[Operating System] It supports Windows 7/8/10, MAC OS X, Linus operating system.

[Connecting] Connect HDMI video source via HDMI wire (purchase by yourself) and the USB access to the PCUSB 3.0 interface (USB 2.0).